Kelley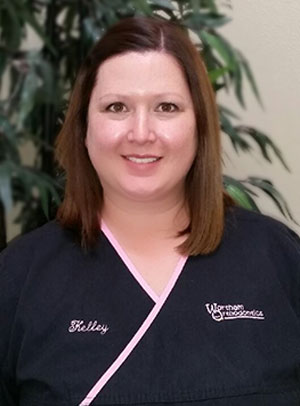 Certified Orthodontic Assistant
I like getting to know our patients and their families during treatment. It's enjoyable to learn about their lives and interests and see how each person changes as their smile changes. When they're finished, I love seeing how confident and happy people are as a result of their new smiles!
I offer a range of clinical care, assist with different procedures, and educate patients about caring for their oral health. Our office is a fun place: We're all friends and are constantly laughing with each other and our patients!
When I'm not working, my husband, three children, and I like to camp and travel together.
Lisa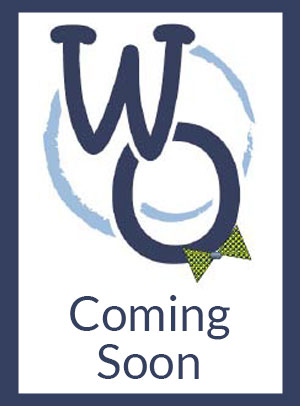 Scheduling Coordinator
I enjoy interacting with our patient family and seeing them change from visit to visit. It's amazing how changing a person's appearance can completely change their personality and I love seeing the confidence people gain!
I work at the front desk: greeting and checking in patients, updating records, answering questions, and scheduling appointments. Everyone at Wortham Orthodontics is part of my second family and we care about giving patients the best experience!
I was born and raised in Florida. When I'm not in the office, I enjoy spending time with my daughter, being outside, and relaxing at the beach.
Maria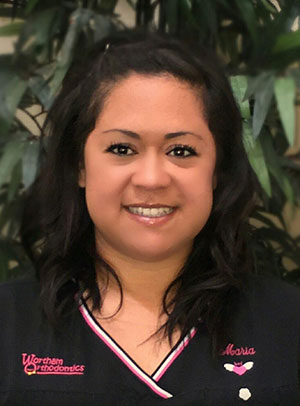 Certified Orthodontic Assistant
I like being part of a team that helps provide patients with a smile they'll love for a lifetime! I never get tired of seeing people become happier and more outgoing as they see the change in their smile. By the time we remove their braces, they're a new person with a beautiful smile!
I work in the clinic where I assist Dr. Wortham, provide patient care, and help my coworkers. I like coming to the office; we're all family and genuinely care about our patients as friends!
I like to spend my free time with my husband and two children and I love drawing. I was born in Santiago, Chile, and moved to the U.S. in 1992.
Michelle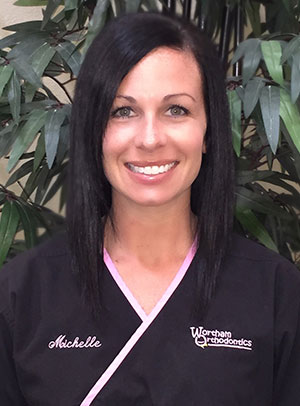 Treatment Supervisor
I love being part of a practice that provides beautiful smiles and delivers confidence to patients of all ages. By changing a person's smile, we help them develop stronger self-esteem and that makes them happier!
I work throughout the office ... in fact, Dr. Wortham often jokes and asks what hat I'm wearing. I handle a lot of roles, including: treatment supervisor, new patient coordinator, accounts payable, marketing, insurance, and inventory and ordering. It's fulfilling to work with such a talented, caring orthodontist and team. We are friends and are united in our desire to provide the best care and most amazing results for our patients!
I enjoy my free time with friends and family. I'm married and have four children, three dogs, and some chickens and turkeys. I love antiques, history, arts and crafts, and baking.
Sonja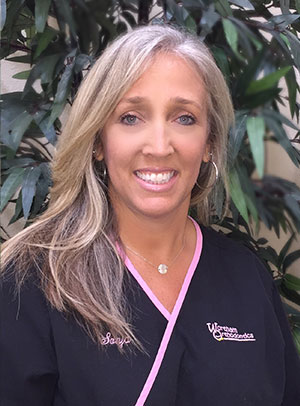 Patient Manager and Marketing
I love working with our patients and their families, and getting to know each as they go through treatment. I'm blessed, as I meet patients at their first visit and then get to watch them grow and gain confidence as they develop a great smile!
I work with patients and parents during their consultation, assist Dr. Wortham with the initial exam, then review treatment, financials, and contracts. I also organize many marketing events. It's a pleasure to work for a doctor I believe in and with a team that feels like family!
In my spare time, if I'm not at the beach, then I'm likely antiquing, crafting, or enjoying time with my husband and daughter.
Traci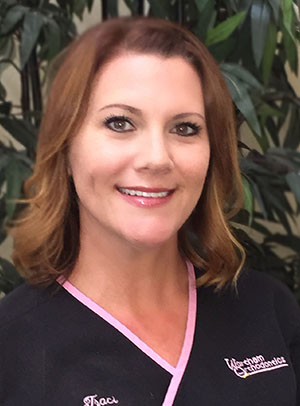 Office Manager, Financial Coordinator, and Insurance Coordinator
I really like helping people achieve their best smile possible and building personal relationships with them and their families. It's incredible to see my friends transform their self-esteem and confidence by changing their smiles!
I handle a little bit of everything at Wortham Orthodontics and have worked in every position in the office. Currently I focus more on the financials, insurance, and making sure the office runs smoothly. We have a wonderful team and a doctor who treats every patient as if he were treating his own family member!
Outside the office, I'm always on the go: I'm married and have three children. The kids' many activities mean very little down time for me!
Laterica
COMING SOON...
Kaitlyn
COMING SOON...